Ditambahkan pada : May 30th, 2013

Rp 290.000
*Harga produk dapat berubah sewaktu-waktu
Available
Bentuk Produk :
Code
Dilihat : 1,268 kali
Kategori :
Steam Wallet
Tambahkan (+)
Share it! Bagikan info produk ini kepada teman Anda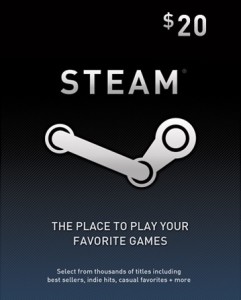 Steam Store – The place to play your favorite games.
Select from thousands of titles including best sellers, indie hits, casual favorites, Dota 2 items, Team Fortress 2 items + more.
Use this Wallet Code to deposit the stated value into your Steam Wallet, which you can use to buy your favorite games from http://store.steampowered.com/ . Choose from all the best titles from current AAA Games, greatest hits, to the best of the indie games.
How does it work?
• You will receive a Steam Wallet code after you place order with us.
• If you already have Steam, go to "Redeem Steam Wallet Code" in the Games menu.
• Otherwise go to https://store.steampowered.com/account/redeemwalletcode .
• Enter the Wallet Code and follow instructions.
• The funds will be added to your account and be ready for use. Have fun!
Steam Wallet Codes offered subject to your acceptance of the Steam Subscriber Agreement ("SSA"). To redeem your Steam Wallet Code, you must have or create a Steam account and accept the SSA. Please see http://store.steampowered.com/subscriber_agreement/ to view the SSA prior to purchase.
This product is licensed solely for use in Brunei, Cambodia, Indonesia, Malaysia, Philippines, Singapore, Thailand & Vietnam. Games purchased with this Steam Wallet  does not include a license for commercial use.