Ditambahkan pada : November 28th, 2015

Rp 425.000
*Harga produk dapat berubah sewaktu-waktu
Available
Bentuk Produk :
CD Key
Dilihat : 473 kali
Kategori :
Retail PC
Tambahkan (+)
Share it! Bagikan info produk ini kepada teman Anda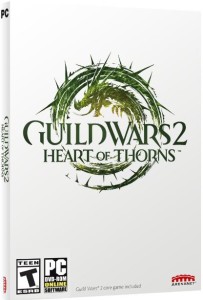 New adventures await you in the heart ofthe Maguuma Jungle! Confront the growinghordes of Mordremoth's minions, discoverallies from ancient civilizations, and battlenew enemies in a vertical world that willhave you reaching new heights and hanggliding into the depths of the jungle.
Tackle challenging group content, explore new open-worldjungle maps, experience new events and story lines, and test your mettle in newheart-pounding boss battles.Guild Wars 2: Heart of Thorns is the first expansion for Guild Wars 2. Foundedon the idea that the journey is the goal, the Heart of Thorns expansion continuesthe Guild Wars 2 tradition of challenging the conventions of MMOs to fulfill thepromise of what online worlds should be.
Guild Wars 2 has received over 100 awards and accolades and has evolved since itslaunch to include more than 40 free content releases ranging from story-drivenLiving World episodes to special holiday events and feature packs. Guild Wars 2is developed by ArenaNet, an award-winning developer lauded for its record ofinnovation and accomplishments in creating online worlds. Guild Wars 2 is developedby ArenaNet in Bellevue, Washington, USA. This 300-person-strong game studio hasa proven record of innovation and accomplishment creating online worlds.